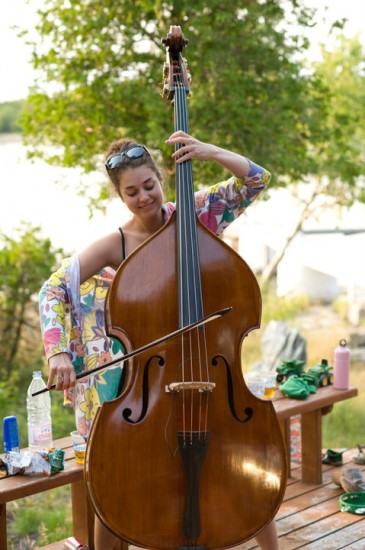 Chance Kellner is a Canadian fiddler/violinist from a small town called Orangeville, Ontario where she was introduced to old time Canadian fiddle music and step-dancing.
This sparked a lifetime of music learning – everything from classical and klezmar to bluegrass, American old-time and Irish. And now with Pedal Folk, she's very excited to add English tunes to her repertoire.
Chance moved to London in October 2011 leaving behind her bluegrass trio known as The Free Whiskey String Band. With them, she had toured Eastern Canada, recorded a few albums, and gigged in gardens, pubs, at festivals, in barns, at weddings and, best of all, on lakes.
Since moving to the UK, Chance teaches violin privately from her home in London while also pursuing an acting career in the theatre world. As a classical musician, she has played for a number of London theatre shows including Floyd Collins (Southwark Playhouse), and The Revenge of Sherlock Holmes The Musical (Hoxton Hall). As a folk musician, she gigs with Robin Grey and The Heartlands and is thrilled to embark on the musical-cycling-adventure that is Pedal Folk